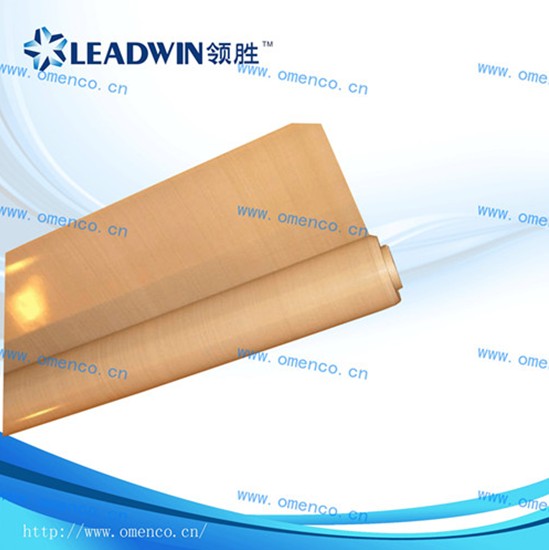 OMEN use high quality glass fabrics combined with specially formulated high level ofPTFE content to produce super smooth, high-gloss surface coating.In addition toproviding the properties of excellent release, abrasion resistance, low friction and chemical resistance, these fabrics are dimensionally stable from -170°C to +260°C Because of their non-toxic, odorless and tasteless qualities they have been approved by the FDA for food processing, packaging and handling
Properties:
Application:
●For molding: mold-releasing sheets.
●For printing: drying screen-printing machines.
●For apparels: adhesive interlining belts.
●For food processing: heat sealers, frozen food transportation, defrosting belt and baking belt.
●For packing: shrink film packaging and side band sealing.
●For office equipments: paper conveyor belt of copiers.
Specification:
OMEN

Colour

Thickness

(mm)

Max Width

(mm)

Weight

(g/m²)

Tensile Strength

(N/50mm)

1

Brown

0.08

1250

158

500/480

2

Black

0.08

1250

160

620/460

3

Black

0.08

1250

180

930/720

4

Brown

0.13

1250

260

1100/1000

5

Black

0.13

1250

275

1000/960

6

Black

0.13

1250

290

910/880

7

Brown

0.18

1250

395

600/1600

8

Black

0.18

1250

415

1500/1500

9

Brown

0.25

2800

490

2100/1800

10

Black

0.25

2800

510

2800/2700

11

Brown

0.35

3200

660

2700/2600

12

Black

0.35

3200

680

2100/2200

13

Brown

0.40

3500

780

2900/3100

14

Black

0.40

3500

820

3000/2900

15

Brown

0.65

4000

1150

4200/4000

16

Brown

0.90

4000

1550

6300/5800

17

Black

0.90

4000

1650

6150/5300