OMEN INDUSTRIAL CO.,LTDNingbo Leadwin international trade co.,ltd Sunne Feng (General Manager) http://www.omenco.cn
Email: sales@omenco.cn, sunne_seals@vip.163.com
msn: sunnefeng@hotmail.com skype: omenco001
Phone: +86-574-88183823,88183859 83030723,83036723
Fax: +86-574-56664782, 83030721
Mobile : +86-18957806501
Address : 1-2F,Building 2 ,58 Fengqi Road, Yinzhou,Ningbo,China
Magnetic Slot wedge

1. Magnetic Slot wedge is High-voltage AC stator groove using open trough structure, there is non-uniform air gap permeance, permeability increase the amplitude of harmonics. The surface of the rotor iron loss and tooth loss increased pulse, the motor temperature rise, reduced efficiency, increased electromagnetic noise, poor starting performance. Stator magnetic slot wedges can effectively improve the air-gap magnetic field distribution, improve motor performance


2. Technique requirement:

2.1 Appearance:

Surface should be smooth, does not allow any air bubbles, impurities and other obvious defects, allow a slight abrasion, cutting neat edges, delamination and cracks shall not end.

3. Temperature grade:Class B

4. Color: black

5. The other size can be supplied according to customers' requests.

※Products can be supplied sheets or shapes according to customer drawing

※Note: The values noted in above technical specification are given only for our customers' reference and should not be used in writing specifications.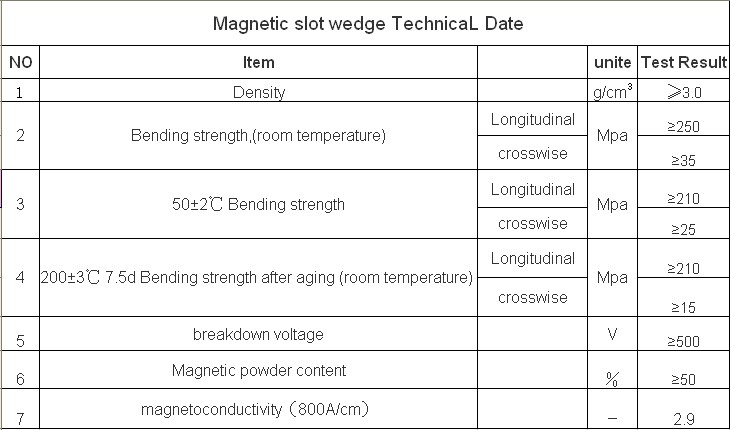 OMEN INDUSTRIAL CO.,LTD Ningbo Leadwin international trade co.,ltd Sunne Feng (General Manager) http://www.omenco.cn Email:

sales@omenco.cn, sunne_seals@vip.163.com

msn: sunnefeng@hotmail.com skype: omenco001

Phone : +86-574-88183823,88183859 83030723,83036723 Fax : +86-574-56664782, 83030721 Mobile : +86-18957806501

Address :1-2F,Building 2 ,58 Fengqi Road, Yinzhou,Ningbo,China

Copyright @

omen.cn

, All Rights Reserved. Designed By

Haibo Network Inc

. Powered By

leicu.com

Online

Inc Sitemap Add Your Links

>