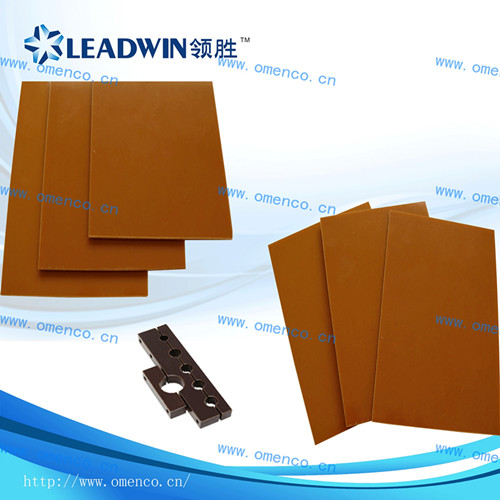 1 3021 Phenolic paper laminated sheet is made from paper that impregnated with phenolic resin under pressure and heat. With high mechanical strength and electrical properties,
2. Application:
It is used for the insulating spare parts of electrical appliances and transformers, high mechanical properties electrical and mechanical devices.
3021A, 3021B, 3021C (China standard) is in accordance with X, XX, XXX, XP, XXP, XXXP, XPC (NEMA standard)
3. Thermal grade: class E.
4.Thickness : 0.5-100mm Size: 1020x2020mm,980x1980mm,1220x2440mm
5. Color: Brown

6. The other size can be supplied according to customers' requests.
※Products can be supplied sheets or shapes according to customer drawing.
※Note: The values noted in above technical specification are given only for our customers' reference and should not be used in writing specifications.
Properties

Unit

Index Value

3021A(Fact Value)

Flexural strength
perpendicular to laminations

MPa

≥120

126

Bonding strength (≥10mm in thickness)

N

≥3200

4100

Impact Strength

KJ/m2

≥15

17.5

Tensile strength

Mpa

≥100

103

Insulation resistance
after immersion in water (D-24/23)

Ω

≥1.0×107

4.5×107

Dielectric strength perpendicular to laminations
(in 90±5℃ transformer oil, 1 mm in thickness)

MV/m

≥ 84

92 (90±5℃)

Breakdown voltage parallel to laminations

KV

≥ 20

22

(in 20±5℃ transformer oil)

Permittivity (50Hz)

—

-

-

Permittivity (1MHz)

—

≤5.5

5

Dissipation factor (50Hz)

—

≤

-

Dissipation factor (1MHz)

—

≤0.05

0.03

Density

g/cm3

1.30-1.45

1.41

Water absorption (D-24/23, 1.6mm in tickness)

mg

≤182

163

Color

—

 

Organge

Reference standard

—

 

Enterprise Standard